Practice as Fiction
mutation@morphes << / >> scrambledflat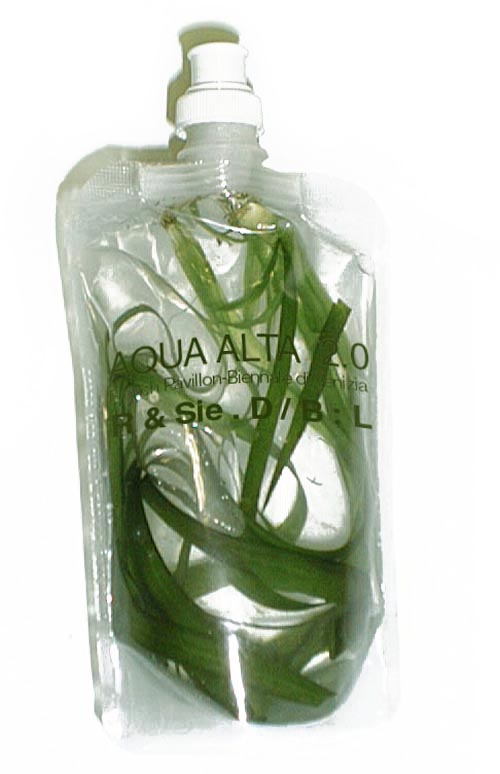 ACQUA ALTA 2.0
We can talk about cities of the south, we can project onto them all our fictions, discuss all their failings, with the emotions and the " isms " that go with such talk ; guilt, cynicism, humanitarism, interventionism, catholic evangelism, and the rest.
Here, we prefer to give you the city to drink.
To ingest polluted water is physically to perceive the dependence of the body, and the social body, on raw materials, elemental matter.
" And if it can be drunk by Pakistani refugee, why not by well-meaning congressmen? With these sips of Grand Canal, we are experiencing first-hand the delights of the humanitarian aid of which we are generally so proud ". P Sourd
Thus it is place of exchange-but an exchange of digestive liquids, intestinal substances, a transaction of disgust and suspicion towards technology and its reality.
To paraphrase Artaud ; where it smells of the lagoon, it stinks of shit, it stinks of man, toxins and hydrocarbons, amid the salty dampness of summer effluvium and sodden lichens lodged in the slightest interstices between bricks oozing with moisture.
What is the use of all this discussion of cities if the eye cannot take in their constituent elements : at Dakar, red earth ; at Soweto, the Bush ; at Resolute, ice ; in Venice, the Lagoon – and integrate them hyper-localized, into the process ?
What we consume, swallow, absorb need only meet basic public health requirement. It is point-less to format cities on identical mechanisms of hygiene, skillfully hidden beneath pretended ideas of social emancipation or progressivism.
Instead of a global vision – the macro-politics which would wipe the planet lemon-scented clean with a sanitized version of international architecture (NY, Paris, Berlin, Shangaï, Singapore) – we must get into the folds and wrinkles of a situation ; let the physical, even chemical, nature of the context take over.
These two models are fundamentally opposed. The first produces reasoned, accepted urban forms derived from Platonic concept to whatever territory it meets, forcing it into subservience, demonstrating man's dominance over place. The second responds through an extension of the very complexity of the situation, of the " here and now " ; absorbing itself into, even subjecting itself to the existing equilibrium of place.
Given the conditions of this in situ process, no one needs one more " projection on the city ". In the end the quality of the water, the purity of the air and the visible degree of direct democracy will replace the cynicism of urban theory.
The lagoon-water project is the expression of this.
_______________________________________
ACQUA ALTA 2.0
On peut en parler de la ville du sud, voir même y projeter toutes les fictions, y révéler tous les manques avec les sentiments attendus : culpabilité, cynisme, compassion, humanitarisme, interventionnisme, prosélytisme catho et j'en passe…
Nous préférons ici la donner à boire.

Absorber de l'eau polluée, c'est percevoir physiologiquement la dépendance du corps au corps social, aux matières premières, aux matières élémentaires.
" Et si elle est buvable pour un réfugié du Pakistan, pourquoi ne le serait elle pas pour des -congressistes- pleins de bonnes intentions ? Par ces gorgées de " Grand Canal ", nous expérimentons in vivo les délices d'une aide humanitaire dont nous sommes généralement si fiers. "
D'après Patrick Sourd
C'est donc un lieu d'échanges, mais d'échanges digestif et aqueux, de substances intestinales, fait de dégoût et de suspicion vis à vis de la fiabilité des technologies.
" Là où ça sent la lagune, çà sent la merde et çà sent l'homme, la Taxifolia et les hydrocarbures, entre moiteur salée de flagrances estivales et lichens spongieux logés dans le moindre interstice de briques suintantes d'humidité ".
D'après Artaud.
Que faire en effet de ce fatras de grands manifestes sur la ville si le regard ne se pose pas en préalable sur les substances qui la constitue : terre rouge à Dakar, bush à Soweto, glace à Resolute, lagune à Venise… afin de l'intégrer comme mode opératoire, hyper localisé.
Ce que l'on consomme, avale et absorbe doit simplement correspondre aux règles minimums de santé publique, inutile donc de formater les villes sur les mêmes mécanismes hygiénistes, masqués habillement par de fausses prétentions d'émancipations sociales et progressistes.
La constitution de la ville et son devenir se situent au creux de cette contradiction et c'est une attitude politique de le reconnaître comme préalable pour intervenir dans les pays en voie de développement.
A contrario d'une vision globale, macro politique, qui tente de passer la planète au PAIC Citron, en remake d'architecture internationale (New York, Paris, Berlin, Changaï, Singapour), nous nous laissons dominer par la nature physique et chimique d'une situation.
Deux modèles s'opposent radicalement : l'un consiste en la production de formes urbaines, raisonnées et admises, issues d'une conception platonicienne du monde et qui viendrait s'appliquer sur le territoire, corvéable à merci, le dominant afin de se prouver la pééminence de l'homme sur la situation, et l'autre : l'autre exacerbe une réponse dans le prolongement de la complexité " hier und jetz ", en creux, afin de se laisser absorber voir asservir par l'équilibre préexistant.
Ce projet lagunaire en est l'expression critique.
_______________________________
Aqua Alta 2.0 / ABSORBTION

Biennale of Venezia, 2000

Architect:

NewT-

R&Sie

(n)

… Paris
(name of the agency at this time : R&Sie/B:L)
Creative team: François Roche, Stephanie Lavaux, Alexandre Boulin, Olivier Legrand
Key dimensions: 3 m2.
Client: AFAA, french pavillon
Cost : 30 000 USD

Text :

Project of a Water Bar using directly the water of the lagun for the French Pavillon, on a Vaporetto.

Scenario:

1) Sucking up the water into pump

2) Disinfecting, desalinization, filtering of hydrocarbon, cooling…

3) Human absorption

4) Human suspicion to the liquid and the engineering for its treatment.