Practice as LifeSpan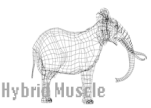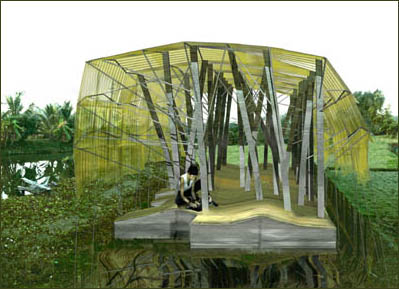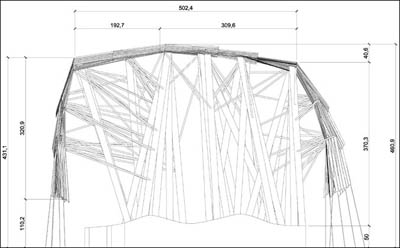 Hybrid Muscle

Situation:

Rirkrit Tiravanija "Land," Chiang Mai, Thailand.

Date:

February 2002.

Designer:

R&Sie

(n)

…/Philippe Parreno
Creative team: François Roche, Stephanie Lavaux, Jean Navarro, Pascal Bertholio

Scenario :
- Transfert and storage of the powerfull of an elephant, with specific electric turbine.
- Pneumatic Ventilation by light movement of the plastic leaves.

Programme:

Creation of a work room for the "Land" resident that can serve as an educational workshop for the neighbouring villages (lighting, information technology, etc.)

Area:

135 square metres.

Constraints:

The "Land" is unplugged.
________________________________________________________
Hybrid Muscle
His feet thrust deep under the ears of his pachyderm, Pichaï starts up the Land's electric generator, as he does every morning. The "concrete batteries" are run down. Too much laptop and the beating of wings last night. An elephant keeper as long as he can remember, partnered for life with his animal, together they emigrated to this former Thai rice field that has become Rirkrit Tiravanija's Land, his experimental Weissenhof.
In front of them is a structure made of still-inert plastic leaves holding a 20-tonne concrete counterweight, hanging vertically like clothes in a European miners' locker room. Their job: to lift them patiently, one by one, using a system of cables and pulleys, moving with animal slowness. Thus muscular energy (2,000 w/h) is transferred, stored and released, transformed, by means of a dynamo, into electrical energy. This endless cycle from elephant to structure to gravity and then to energy compresses or frees interior space, in rhythm with the occupation of the Land and the movement of the counterweight platform.
Nothing could be further from monomaniacal planning that would seek the development and innervation of a territory using the expected tools of domination and tabula rasa. On the contrary, this project introduces a relational mode with the local animals. It's not just an accident that this pachyderm all by himself supplies the Land's electrical needs and that architecture is the vector. This "anthroposophic" process that makes currents and the modes of exchange visible profiles architecture as a situational contingency with no exotic imports other than its scripting.
The auteur of this project is schizoid and bicephalic: PPR&Sie. He is miscible with two specific fields, art and architecture, and cannot put himself forward except through this turbid, hybrid identity.
At a time when artifacts go from Elle Magazine to Wall Paper Design, this concept of auteur has never been so incisive as when the creative artist draped in his charismatic isolation (Duchamp's star) turned into a postmodern creative director (Jean Nouvel), introducing a constant and recurrent recycling of models, like Pong on speed. Stories and narratives have become interchangeable, reproducible and autophagic. This is even one of the necessary conditions for contemporary cultural consumption as a component of the free-market system.
The narrative echo, a kind of amplification by means of a borrowed model, thus transforms all contextual thought into a simple citational opportunist.
The fruit was already infected by he postmodern virus when a De Stijl architect, Rietvelt, faceted Mondrian's world in 3D, and when his successor, Doesburg, a decorative counterfeiter, covered his buildings with it, thus de facto heralding the YSL dress of the same name…
The "Battery House" project on the Land in Chiang Mai is completely different. It introduces a productive simultaneity, a linguistic concomitance (obvious at an antipode of 1%) between the artist and the architect…
It draws on its situation (a hand-made teak leaf structure, numerous reserves of pachyderms transformed into toys for tourists, the need for energy development), but more disturbingly it is generated through the absorption of two attitudes, two operating modes, which have thus become indistinguishable and Siamese. This strategy of confusion is not unanalogous to the meeting of Klein and Parent.
What makes this immaterial architecture, made of air and fire, somewhat troublesome is not so much the absence of matter as the absence of an identifiable author, an alleged author to whom we should pay tribute so as to consume his substance... This heterogeneous association maintains the fuzziness between fiction and the reality principle. No commentary can circumscribe its identity, and its status sails slackly in troubled waters, neither architecture nor an artwork, or both at once. It reintroduces a complexity that existed before the Quattrocento, before the separation of skills and before the appearance of the author as an autonomous and individualist visionary.
The current is running now and both the elephant and his keeper are going all-out. The dance of the counterweights reactivates the machine and the facade leaves shudder, undulate, ventilate. This artificial, animatronic skin made of plastic scales in quincunx moves, pneumatically, its rubbery muscles, to introduce the minimum of fresh air necessary…
…for a building that breathes and perspires, something between Clement Adler's early bat-winged airplane and a Spielberg pterodactyl.
To be continued…
_________________________________________________________
Pichaï les pieds engoncés sous les oreilles de son pachyderme relance, comme à son habitude, tous les matins la turbine énergétique du Land. Les "batteries de Béton" sont à Plat. Trop de Laptop et de battement d'aile la nuit dernière...
Cornac depuis toujours, lié à vie avec son éléphant, ils ont émigrés ensemble dans ce Rice Field Thaïlandais devenu le "Land", le Weissenhof expérimental de Rirkrirt Tiravanija.
Face à eux une construction de feuillages plastiques, encore inertes, abritent 20 tonnes de contrepoids béton, disposés comme dans une salles des pendus de mineurs de fond.
Leur job : les relever patiemment, un à un, par un système d'encablure et de renvoi, dans une gestuelle animale, au ralenti. L'énergie musculaire (2000w/h) est ainsi transférée, stockée et restituée, associée à une dynamo, en énergie électrique. Ce cycle associant en loop " l'éléphant_l'architecture_la gravité_l'énergie " compresse l'espace intérieur ou le libère, au gré de l'occupation du Land et du mouvement du plafond contrepoids.
Nous sommes ici loin d'une planification monomaniaque, qui penserait le développement et l'innervation d'un territoire au travers des outils attendus de la domination et de la tabula rasa. Ce projet introduit, bien au contraire, un mode relationnel avec le localisme animalier : que ce pachyderme résolve à lui seul le besoin énergétique du Land et que l'architecture en soit son vecteur n'est pas anecdotique. Ce process "anthroposophique" qui rend visible les flux, les modes d'échanges profile l'architecture comme une contingence de situation, sans importation exotique autre que sa scénarisation.
L'auteur de ce projet est skyzoïde et bicéphale : PPR&Sie. Il est miscible dans deux champs spécifiques (artistique et architectural) et ne peut se revendiquer qu'au travers de cette identité trouble, hybride.
A l'heure ou les artefacts circulent du Elle Magazine au Wall Paper Design, cette notion d'auteur n'a jamais été aussi " répliquante " que depuis que le créateur drapé dans son isolement charismatique (l'étoile de Duchamp) s'est mué en créatif postmoderne (Jean Nouvel), introduisant le recyclage permanents et récurrents des modèles, comme un Pong en accéléré. Les récits et les narrations sont devenus interchangeables, reproductibles et autophages. C'est même l'une des conditions de la consommation culturelle contemporaine comme composante du système libéral.
L'écho narratif, sorte d'amplification par modèle emprunté, transforme ainsi toute pensée contextuelle en un simple opportuniste citationnel.
Le virus post moderne était déjà dans le fruit : Que l'un des architectes du Stijl, Rietvelt, facettise en 3D l'univers de Mondrian ; que son successeur Doesburg, en faussaire décoratif en badigeonne ses bâtiments, annonçait de fait la robe du même nom de YSL.
Le projet de " Battery House " sur le Land de Chang Mai est d'une autre nature. Il introduit une simultanéité productive, une concomitance linguistique (évidemment aux antipodes du 1%) entre l'artiste et l'architecte…
Il se nourrit à la fois de sa situation (construction Self Made Hand en feuillage de Teck, multiples réserves de pachydermes transformés en jouets touristiques, nécessité d'un développement énergique) mais plus troublant il se génère au travers de l'absorption de deux attitudes, de deux modes opératoires, devenus par la même indistincts et siamois. Cette stratégie de la confusion n'est sans analogie avec la rencontre entre Klein et Parent.
La gène que peut créer leur architecture immatérielle, d'air et de feu, ce n'est pas tant l'absence de matière que l'absence d'auteur identifiable, d'auteur présumé à qui il faudrait payer tribu pour en consommer la substance… Cette association hétérogène entretient le flou, entre fiction et principe de réalité. Nul commentaire ne peut venir en circonscrire l'identité, et son statut navigue mollement dans des eaux troubles : ni architecture, ni pièce artistique, ou les deux à la fois, elle réintroduit une complexité antérieure au Quattrocento, d'avant la séparation des compétences et d'avant l'apparition de l'auteur, en visionnaire autonome et individualiste.
Le courant passe à nouveau, l'éléphant et son cornac ne ménagent pas leur effort. La valse des contrepoids réactive la machine et les feuilles des façades frémissent, ondulent, ventilent. Cette peau artificielle, animatronique, d'écailles plastiques en quinconce s'agite, pneumatiquement, en autant de muscles caoutchouteux pour introduire un minimum de fraîcheur nécessaire…
…un bâtiment qui respire et transpire, entre le coucou primitif de Clément Ader et un ptérodactyle de Spielberg.