Tweet
.
The Study Circle Library, the oldest and most complete library in Uttara Kannada district, is one man's life-dedication to books.
Born at the end of the 1920s in Gokarna, a sacred village in the south indian state of Karnataka, Sri G. M. Vedeshwar begins what will become the passion of his entire life when he is 10 years old… Obsessed with reading, he opens Balasangha, a sort of micro-library which will later become the Study Circle. His first catalogue dates back to 1939. 
The library owned by 90-year-old Vedeshwar has more than 4,000 rare Sanskrit books. The collection includes volumes of Sanskrit literature, philosophy, mythology, the Vedas, and more than 100 writings on palmyra leaves which are over 600 years old. Halegannada and Hosagannada, both books published in Bombay about 175 years ago are part of the valuable collection. The Samhita, Bramhana, Aranyaka, Rigveda and Sihina, published in Sanskrit by the Maharaja of Mysore can also be found here. Apart from these, the library boasts of books in Marathi, French, Hindi, German and 38 other languages.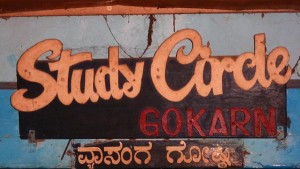 The library, which is home to a collection of rare and valuable books, had fallen into a state of disrepair without proper management to maintain it. Elias Tabet, a french performer, has now joined hands with the owner to revive the library, and with the support of other french artists, formed Pandrata Circle, an organization to garner help and donations for the library's restoration. 
Tabet decided to convert the collection into an online library first, and the process of computerization of the books has been in progress for the last three months. Once this is complete, it will be one of the best and most comprehensive online libraries in the world, said Vedeshwar, appreciating the french artist's initiative.
more info here - 
http://www.pandratacircle.com/index.php?option=com_content&view=article&catid=23&id=2&Itemid=10&lang=en
http://articles.timesofindia.indiatimes.com/2011-03-01/hubli/28642632_1_oldest-library-french-tourist-gokarna