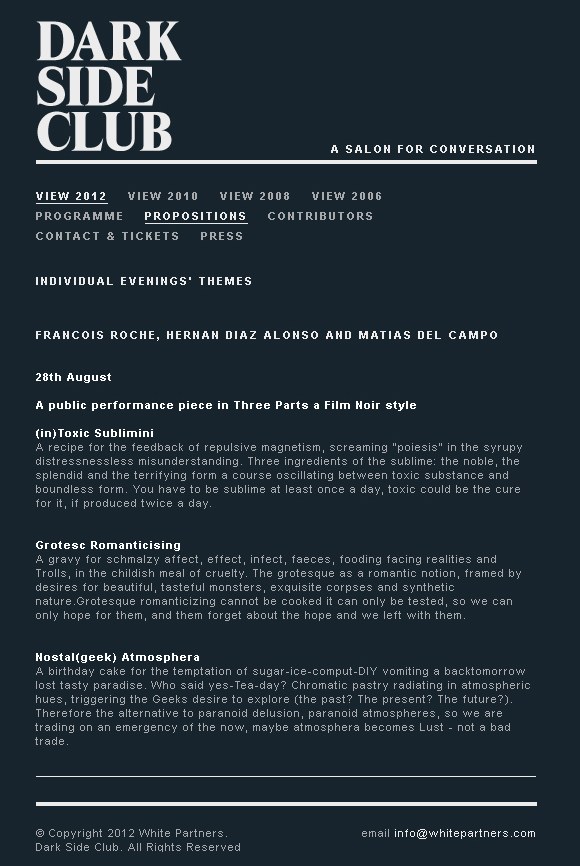 Co-Curating a dark side night at the 13th Biennale of Venice / 28th of October / Somewhere on the Laguna
The Menu:
(in)Toxic Sublimini
A recipe for the feedback of repulsive magnetism, screaming "poiesis" in the syrupy distressnessless misunderstanding. Three ingredients of the sublime: the noble, the splendid and the terrifying form a course oscillating between toxic substance and boundless form. You have to be sublime at least once a day; toxic could be the cure for it, if produced twice a day.
Grotesque Romanticizing
A gravy for schmaltzy affect, effect, infects, faces, fooding facing realities and Trolls, in the childish meal of cruelty.
The grotesque as a romantic notion, framed by desires for beautiful, tasteful monsters, exquisite corpses and synthetic nature. Grotesque romanticizing cannot be cooked it can only be tested, so we can only hope for them, and them forget about the hope and we left with them.
Nostal(geek) Atmosphera
A birthday cake for the temptation of sugar-ice-comput-DIY vomiting a back tomorrow lost tasty paradise. Who said yes-Tea-day? Chromatic pastry radiating in atmospheric hues, triggering the Geeks desire to explore (the past? The present? The future?). Therefore the alternative to paranoid delusion, paranoid atmospheres, so we are trading on an emergency of the now, maybe atmosphere becomes Lust, not a bad trade.