15 November 2011 / Opening of International competition (under 30 Y) / for scenario + fabrication / Bordeaux-Artigues / France / Architects+Artists+Landscape designers /
blog  : http://www.new-territories.com/blog/ithasbeenhere
————————-
"it has been here"
« ça s'est passé ici »
————————-
"Grass produces neither flower nor sermon on the mountain, nor airplane carrier, but in the end it's always grass that has the last word.  It fills emptiness, grows between, and amongst other things.  The flower is beautiful, the cabbage useful, the poppy makes us mad, but grass is overflow." / Henry Miller
We are at the crossroads, where, faced with the autistic, blind, deaf and mute violence of our mechanisms of technological, industrial, mercantile and human domination, nature reacts…with violence and without warning, in a faltering of the original chaos…in mutiny against the organization of men… Gaïa seems to take revenge (Katrina, El Niño, Cyclone Jeanne, Tomas et Nargis, the Xynthia storm, Ewiniar typhoon, Indonesian and Japanese earthquakes, collateral Tsunamis all the way to Fukujima…chain of devastating incertitude, unpredictable in spite of our seismographic sciences).  The elements rage and the gods, so quick to pardon our folly, seem powerless to appease the rebellion, armed with infernal force…
Nature is not an ideological "green washing" for backyard politics, nor is it Eden park, millenarian, eschatologist, from which we have very fortunately escaped, freeing ourselves from the gatherer-hedonist to negotiate with the hostile dark forces that have lain hidden in the depths of the forest…
But these forces have come out of their hiding places, their biotopes, they are invading the spaces that Man had thought he could take without giving anything in exchange, without transaction…the war has been declared…nature's revenge is not a bedtime story for children…our bellicose enemy operates openly…in the light of day…ultimate arrogance…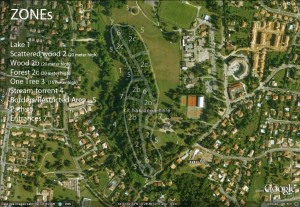 Here we are…here…on this terrain, … in the middle of the conflict, not in real time, this has already taken place, « çà c'est passé ici », in these forests, on the edges of these urban spaces…the divisions have confronted each other, clashed, been wounded…damaged…there's one battlefield left, traces of this violence, flashes of this violence…we only have this zone left, where even the access protocol has been forgotten with time, clouded by the desire to erase the shock of titans, to delegate it to the ranks of myths…easier to tame…for a human…
This zone, we're going to reopen it together, the space of an instant…necessarily limited…and even this not without trepidation…we need to establish a protocol, a ritual to protect ourselves from it…but protect ourselves against what, that remains unclear…the toxicity or monstrosity of which we are today the pacified children…the fear of seeing the face of this other reality by which we have become penetrable, to which we are bound…but here in combat uniform, with the highly-charged negative energy the military objective of which was to renegotiate, through force, a common space, a common matrix, a precarious balance made of openings and amenities…with those who thought they could dominate their natures …
The protagonists no longer exist as two distinct entities…« ça c'est passé ici » is a war zone which happened, wherein the structuring of the conflict remains a mystery…this doesn't let itself be diagnosed as easily as all that…the implements of our contemporary archeology are not operating…« ça c'est passé ici »…
….
This session is the occasion to rethink our relation, not in terms of moralist ecology, nor in terms of preservation, but rather in terms of transaction and of body and zone of exchanges…
Each acquiescence must identify a relationship to the situation, in order for it to be compatible to the development of ideas and principles of the transition to the real…Due to the intrinsic nature of this competition, based on a space of conflicts, of transaction, of process and relations, the site must be perceived and exploited as a "swapping" zone.  The project must not hold back from crossing barriers because they are too morally predictable, from negotiating repulsions, anomalies, impulses of life and death, entanglement between Eros and Thanatos …the failure of a system is not a criteria of its devaluation and disqualification…but rather a system of knowledge…
« ça s'est passé ici » is conjugated in the future past, or rather, in a retroactive anticipation of a previous future … signs and systems … enigmatic.
F. Roche