New-Territories / MindMachineMakingMyth / …a research on NEOTENY / rOB-fAB-sTASE-insTASE-eXsTASE-inTIMITY-…………..ex-TIMITY
With Francois Roche, Camille Lacadee, Stephan Henrich, Daniela Mitterberger, Vong Wongkillalerd, Bnjamin Ennemoser, Joey Jacobson.
With the help of Graham Foundation, CNC France
———————-
''Ex-Timity'' consists in a 'model-prototype in process' along with a short film, both derived from the tale 'Councillor Krespel' by E.T.A. Hoffmann.
… the piece is derived from the first part of the novel in which the Councillor Krespel encloses his own daughter, Antonia, and prevents her from singing, from her inclination towards a morbid bliss … in the literal sense.
The short film originating from this makes visible a suspended moment, in the meanders of her psyche, where she ponders whether or not to live her pleasure, mixing life and death drives, physiological and pathological pathologies. The monologue at the end of the film reintroduces the debate between Charcot and Freud on the origins of the state of torpor, the loss of consciousness, inanimate body, state of exaltation, passionate state, suspension of the will (Sabina Spielrein, Destruction as the Cause of Coming into Being). We can see in Antonia's behaviour the premises of this debate on hysteria, considered by Charcot as a neurocerebral disease, a pathological trouble, genital neurosis which would enable the disqualification of the feminine gender and its humours, associating it with convulsionary troubles, of pathological origins (in opposition to medieval beliefs of bodies being 'possessed by the devil').
Freud will shatter the organismic theories of Charcot, scoring hysterical ecstasy as a psychic pathology, whose care requires an intelligible device bound to language and not a mise en abime, a spectacle with the doctor as the master of ceremony.
Antonia in the research ''Ex-Timity'' is in this moment of interrogation, a century before the debate between Charcot and Freud. She identifies the two hypotheses as an external authority upon her body, both attempting to format her behaviour. Following Charcot's hypothesis of a physiological disease, she can allow herself to be in representation, exhibitionist … science gives her that right. In Freud's view, she is a zone of passage to the unconscious which can only unfold via language, speech, analysis, and its discursive corollary.
Thus she hesitates to adopt one format or the other, not neglecting that being 'possessed by the devil' can come as a plausible escape (there are no more public burning at the stake nowadays).
She will, as the film progresses, internalize her libido and its corollary linked to the state of ecstasy, in organismic and psychic dimensions in order to metabolize her addiction.
She discovers a sort of clearing, in the meaning of Heidegger, where she can negotiate her monstrosity, a place of en-stasis, she will overcome her libido, which she can now externalize with pain and disgust for herself. The body is in space, it is the space and it inhabits it (Moebius surface). She reaches sexual maturity before going out of this uterine incubator, and invalidates a reference to the concept of Neoteny dear to Lacan: man and woman, in a body point of view, are premature foetal primate having reached sexual maturity while remaining larval, basically unfinished, constitutively deficient …
This way Antonia escapes her morbid destiny and Hoffmann's tale cannot endlessness…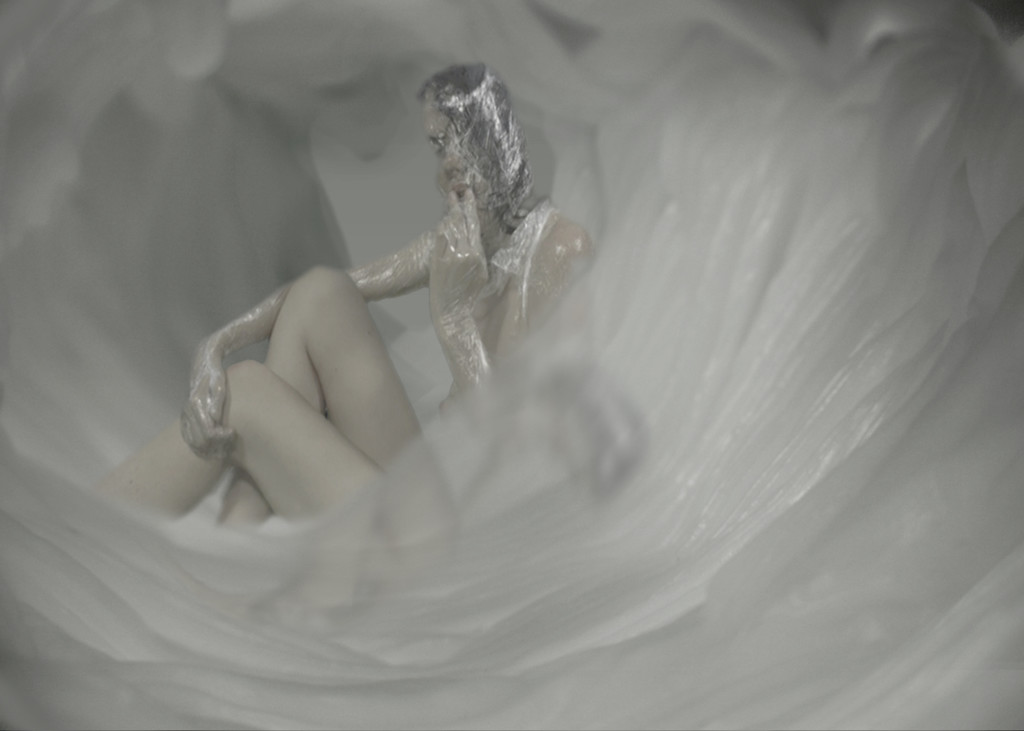 Soliloquy (english)
…no … not yet … … where you from … … … i'm not ready ………… porn-vulnerable premature … sexual immature … you see … can't you see … i'm still in limbo …… … un-stripped of my molt … … lecherous voyeur … unveiled in my extimacy …….a larva ….. libidinal …. …. a primate fetus……….. wait …. Come back later …
… really not in place … … not my place … i exit-inUterus … and i'm hungry … one doesn't come here innocently …… … miss-than-abim … ah … but i'm not really there either …… ailing … amiss …… i'm a faker … breathless … … carnal embodiment … obscene incarnation … naive native profanity … i'm sick … deranged … … you don't wanna mix everything up
Yes … i will stay here … instead … or rather … there … but … in this hole
Mmmmm … i'm still a larva …… diaphanous … almost transparent ………… no hairs yet …… the forehead … bulging … … the eyes … the mouth … and the lips … the teeth ! ………… i'm not formed yet … i embryonic …… leave me alone …… i got work to do …
i must … get rid of this skin … scar less … no i don't deserve any better … … must make the lips fatter … i don't feel much yet anyway … … must bring the eyes closer … lower the eyelids … must stand up … must vo-ci-fe-rate … …. but no … it … really  … is fine for me ….. yes … i will stay there for another while … … … slashing the entrails … … desexualizing …… on the outside … no i won't say anything ……… have no words of my own …… no voice … i'm veiled … un-unsealed … everything here in stasis … …… enstasy …… inside … folded … undeveloped … enfolded … curled up concealed twisted torn … in reverse embrace … fondling faces … … …
what do you want you? … that i close my mouth when i eat like this … that i spread my lips … like that … i tell you what … I have nothing to tell you ……… let the devil do its dance … … the ecstasy of expulsion … I want more … the dirty insularity of my flesh …
You can go to hell … … I don't care … I adopt combat pose …… whole …… reconstituted … …. auto-imago terminal … equivocal carnation …… underlying schizoid … … hideous idol … I complete the strip … … and tomorrow … a monster will be out … … you can go to hell …… in nonsense innocence … I belong to me … to me
The larva moves in her silky element, white, indifferent to the world and its mechanisms of which she is prettily unaware. She wanders through dead-ends, encountering only herself, everytime feeling distressed about it. She would not pass the imago stage, she remains fragmented, disintegrated, scattered. By dint of renouncing ecstasy – which would lead to assume her body as a whole, joint to her mind – she suffocates in a form of enstasy, of which we do not see how she will come out. She displays a muffled enjoyment, unrestrained but painless, without joy nor outbursts nor consequences. Her hysteria is cold, her nakedness premeditated, apathetic although odorous.
Understanding if she constrained herself or if centuries of external authority upon her body and its manifestations are responsible for her current state of stagnation seems irrelevant today. The question is whether and how she is going to unfold.
It is symptomatic that her biotope is that of culs-de-sac, where she goes in circles without anyone's knowledge. She grows, she pushes for a resolution, but with no scream, with no excess, without tempting the void, nothing will come out. To follow her destiny of libidinal larva, to give up her previous form and embrace an instinctual beastly innocence, she will have to…