Design documents extracts/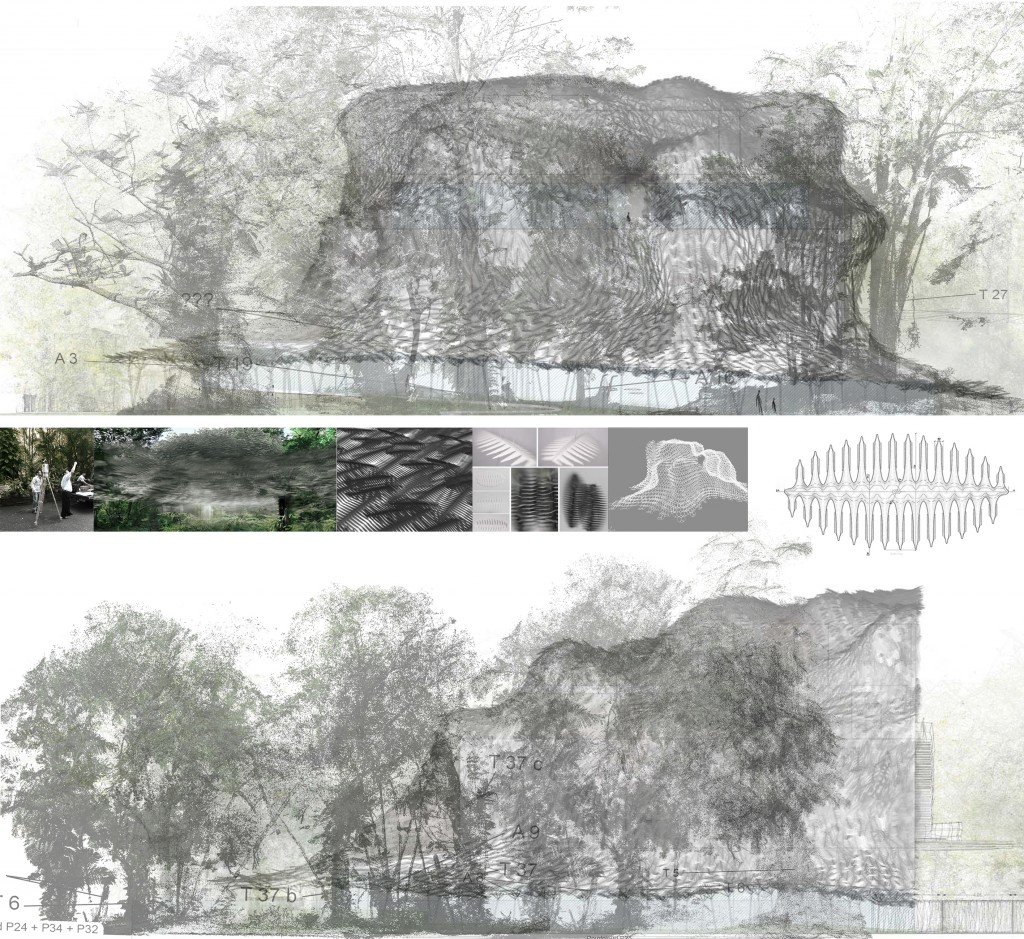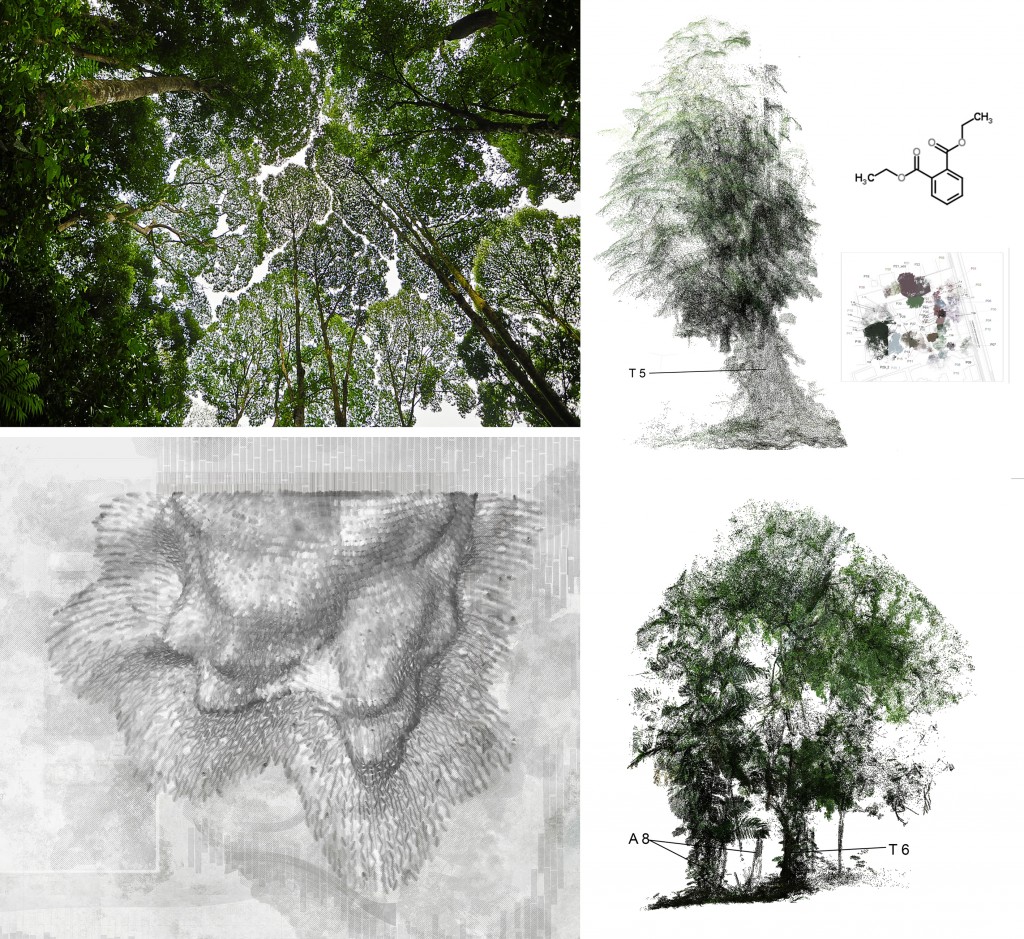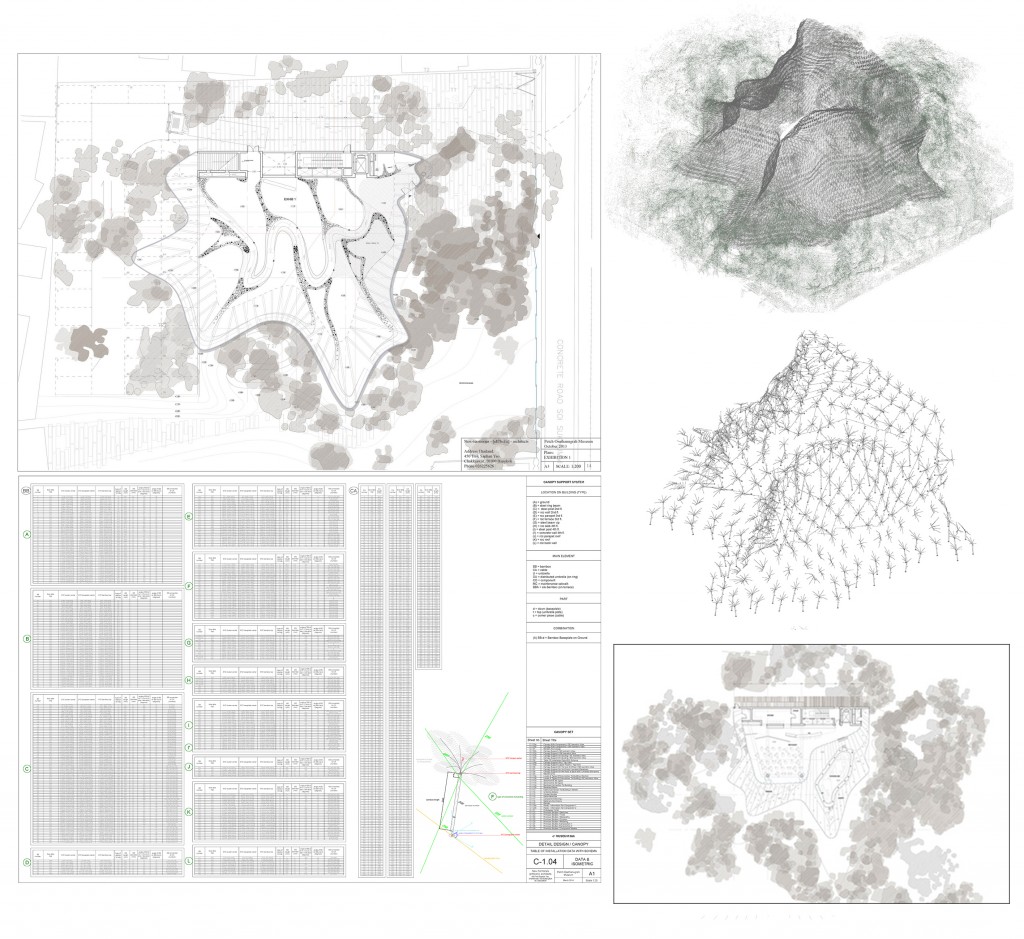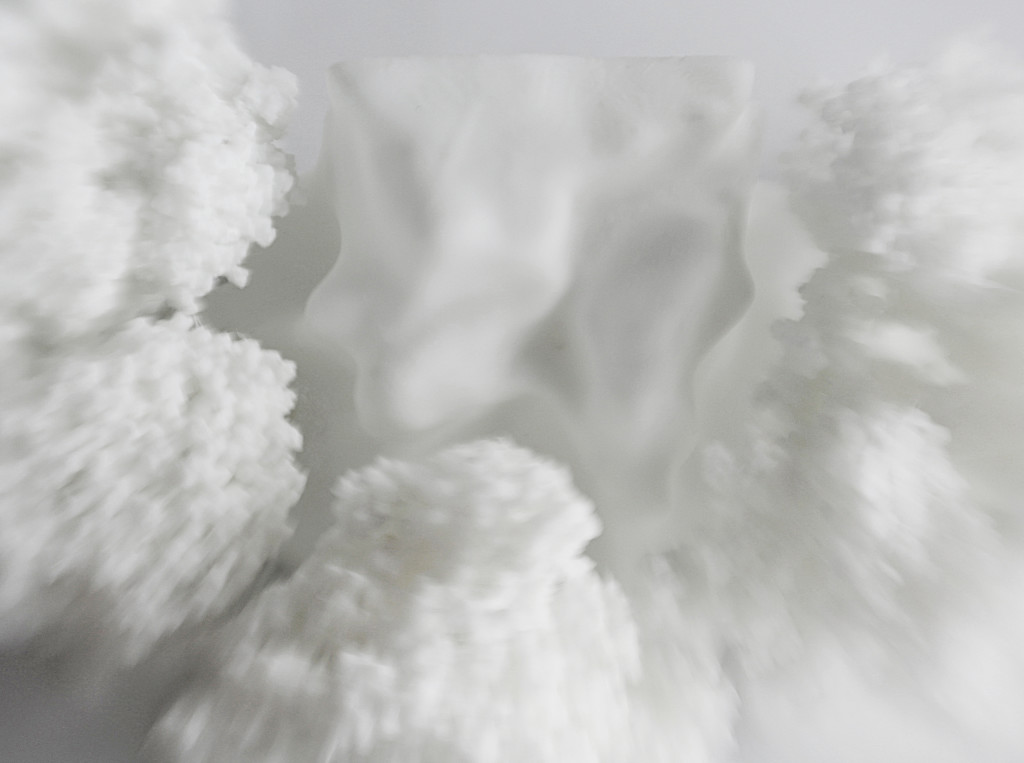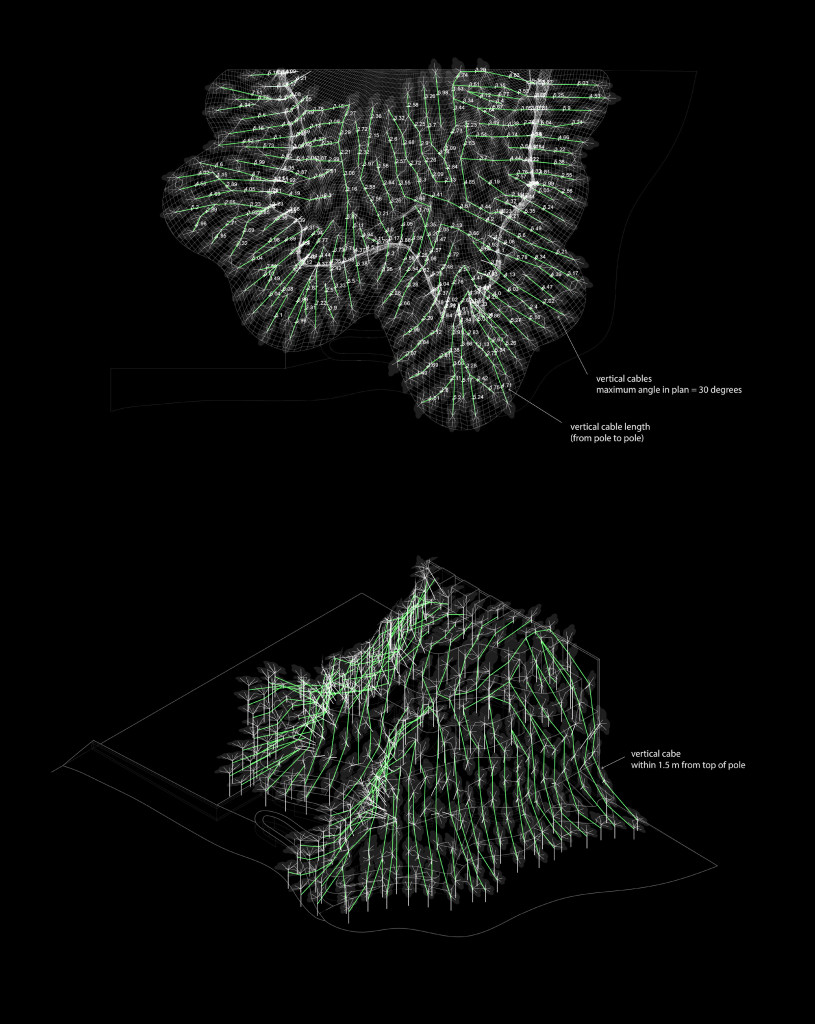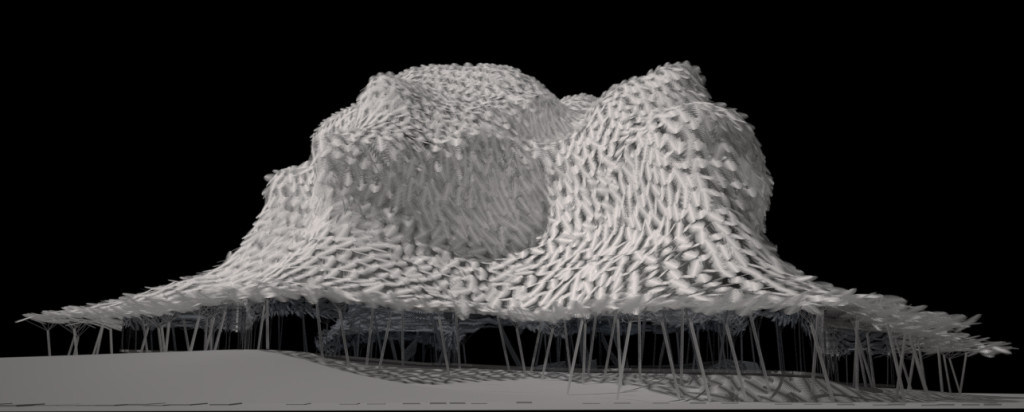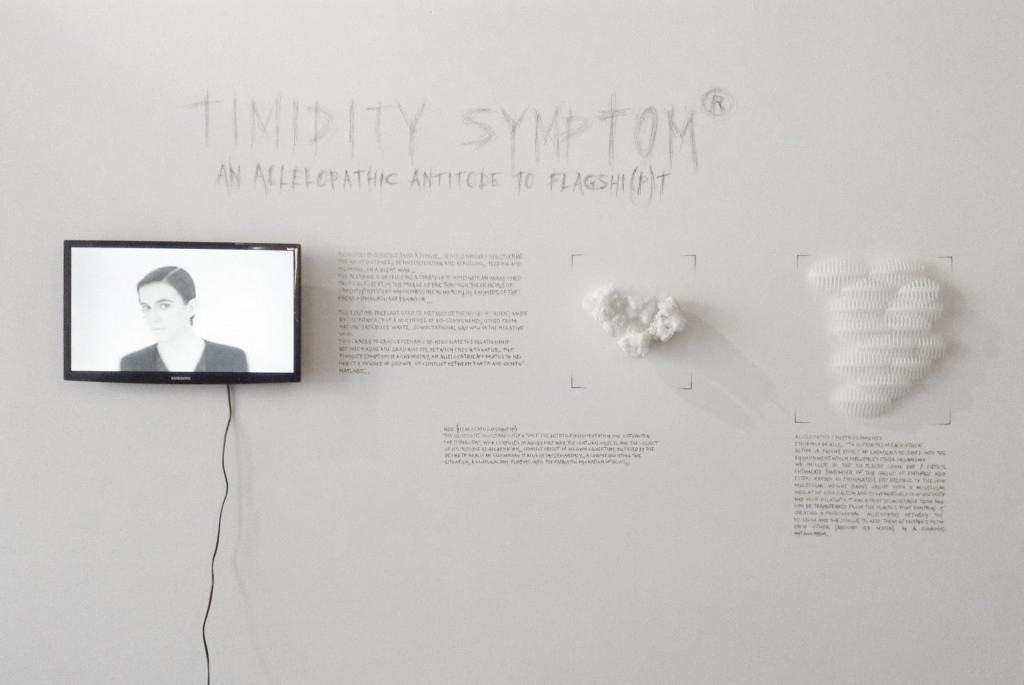 Movie / http://www.new-territories.com/blog/?p=1531
—————-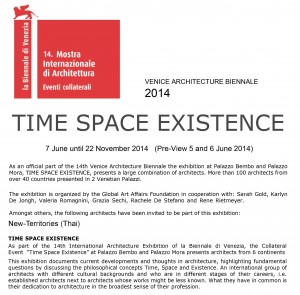 —————-
Scenario / Design documents extracts /
PROLOGUE / A ghostly emergence amid a jungle… sombre mimicry negotiating the right distance… between flirting and repulsing… feeding and fighting… in a silent war…
The scenario is developing a strategy to infiltrate an abandoned tropical forest, in the middle of bkk  through the principle of timidity (trees' crown shyness phenomenon), in a mimesis of the pheromonal foliage behavior.
The existing trees are used to metabolize the museum "alien", made by the intricacy of a multitude of bio-components, issued from nature's recycled waste…computational  growth in the negative void.
This cradle to cradle scenario re-negociate the relationship between alive and dead ghosts, between eros & tanatos…  the timidity symptom is a chemistry, an allelopathic app aratus to re-inject a degree of dispute, of conflict between 'proto and crypto' natures
GEOMETRY / Scanning 3D of all the trees…three months of duty!  To get 5 gigas bytes of Point Cloud…micro station for transferring point could in millions of Rhino point…Python to generate attractors, repulsor effect and reveal the negative, the void of the forest, where something could infiltrate… approximation of surface…3Dprint and modeling in synthetic plaster to blur the positivism of the scientific process… 3D scanning by Kinect…and distribution and cluster population on surface by Python-Rhino…grasshopper shaking…Design of the intricable component, test of cnc milling scale one by Kuka-Agilus…and preparation of the final aluminum Mold, again by CNC….dripping of bio-plastic for 15 000 units…
The research on geometry is a mathematical development revealing a shape according to the existing obstacles surrounding it (the trees – calculation of distances to trunk, branch, foliage), followed by an equation to define a Timidity relation between the limits of the emerging shapelessness and the contour of the existing morphologies.
ALLELOPATHY/PHYTOHORMONE / Ethymologically….."to suffer from each other"> Active or passive effect of chemicals released into the environment which influences other organisms. We include in the bio-plastic of 15000 Components some D.E.P. / diethyl phthalate (amember of the group of phthalic acid esters known as phthalates). D.E.P.  belongs to the low molecular weight (lmw) group with a molecular weight of <250 dalton and comparatively low viscosity and high volatility. it has a faint disagreeable odor and can be transferred from the plastics that contains it, creating a pheromonalallelopathy between the museum and the jungle, to keep them at distance from each other (around 0.9 meter), in a dynamic antagonism.
—————-
Post-Critical Scenario / NDE (NEAR DEATH EXPERIMENT) / The museum is simultaneously a 'spot' for artistic experimentation and a stupa  for Arts Collectors, who confuses, in a 'buddhist' way, the cultural objects and the subject of their possible (re-)incarnation… themselves object of their own collection, dictated by the desire to reach an illusionary status of impermanency… corpses haunting the situation, cultural icon flirting with their fatalistic migration of souls (metempsychosis)… in fact just a fantasy or a fanaticism to become an entity of their phantasm.
—————-
Program
–          Museum 2500m2
–          House of Collector 2000 m2
–          Employees quarter 600 m2
-Detail Design Phase / Spring 2013-14
-Initial date for Completion / December 2016
—————-
The Crew 

-Petch Osathanugrah /   Client 
-New-Territories, [eIf/bʌt/c] /  Architects
Main team, Francois Roche, Camille Lacadee, Cyril Lami, Jeep P. Narongthanarath
Collaborators,  Devin Jernigan, Tiziano Derme, Myrtille Fakhreddine , Vongsawat Wongkijjalerd, Ip Panit, Patrick Mc Kechnie, Katrin Hochschuh, Hadin Charbel…
Biennale Installation, Nicolas Grawitz and Iris Godbille
Time of studies / June 2013-April 2014 / Details Design Phase completed
With Design partners
-Ezio Blasetti / Architect / Mathematical Process
-Andrew  Snalune  / Façade Engineering
-Sakkarn Sirisrisak / Steel Engineering
-Sanitas Studio / Landscape Architect
——–
LAST previous news / we are obliged to suspend the 'Timidity Symptom' museum project because of the period of  Thai political shift, the new Military Coup 2014.
——–